Aboriginal Education Support
Mission Statement
Flinders View Primary School and Preschool has a strong commitment to Aboriginal Education. Our practices are based on the objectives of the current DfE Aboriginal Strategy guidelines, the School's Site Improvement Plans, the Preschool's Quality Improvement Plans and our School and Community Partnership Agreement. We employ an Aboriginal Education Teacher (AET) and Aboriginal Community Education Officers (ACEO) to work collaboratively with the school community and oversee the site programmes and initiatives in Aboriginal Education. In addition to a running a languages program, employing a language teacher, Language Specialist (HPI), and Community Elder Language Specialist (HPI). Our focus is based on the following objectives:
Increasing the literacy and numeracy achievement outcomes for Aboriginal students
Building community, and student engagement within the school
Ensuring the wellbeing needs of students and families are supported
Location within school grounds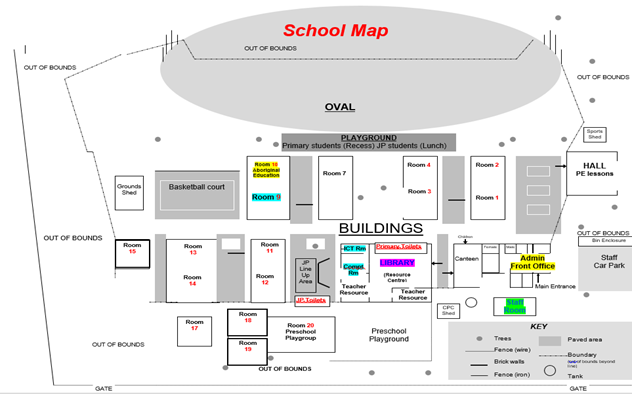 Aboriginal and Torres Strait Islander Days of Significance
Cultural Events and Days of Significance are integrally integrated into the planning of the school calendar in recognition and celebration of Aboriginal and Torres Strait Islander peoples and culture.
At Flinders View Primary School, we celebrate the following Dates/Events of Significance:
| Day of Significance | Dates | School Response |
| --- | --- | --- |
| Harmony Day | 21st March | Harmony Day is celebrated within the school and events are often organised through SRC, and the School Events Committee (of which a member of the Aboriginal Education Team participates). |
| National Reconciliation Week | 27th May- 3rd June | Reconciliation Week is celebrated each year and in 2020 the Aboriginal Education Team resumed the primary responsibility of organising this week, in collaboration with the School Events Team. This week aims at highlighting the importance of Reconciliation within the school and community, as such events planned include the involvement of families, community and the school. |
| NAIDOC Week-For our Elders | 2nd-9th July | NAIDOC Week often falls in the school holidays, however the school participates in Community activities when able (including community held marches, competitions and events). |
| National Aboriginal and Torres Strait Islander Children's Day | 4th August | This day is currently not celebrated within the school, however, the Aboriginal Education Team has made the recommendation that this day be included in future planning of the school from 2021 (and beyond). |
---
Role Outlines
The Aboriginal Education Team is made up by a representative from Leadership; the Aboriginal Education Teacher (AET); Aboriginal Community Education Officers (ACEO); Aboriginal Family Literacy Strategy (AFLS) Teacher and our Language Teacher, Language Specialists (HPI), Community Elder Language Specialist (HPI).
Aboriginal Community Education Officer (ACEO)
An Aboriginal community education officer (ACEO) supports individual Aboriginal students and their families within the school and preschool community. The role of an Aboriginal community education officer includes:
working with teachers in the implementation of Aboriginal Cultural Studies and Aboriginal perspectives in curriculum design and delivery
administrative functions such as record keeping, reporting writing and maintaining files and information on Aboriginal students
contributing to site learning plans and individual learning plans to improve Aboriginal student social development, wellbeing and learning
helping teaching staff develop and maintain relationships with Aboriginal students, parents and families
promoting an Aboriginal community voice in educational decision-making
providing advice on the cultural diversity of Aboriginal groups.
Aboriginal Family Literacy Strategy Teacher
The AFLS teacher is an integral member of the site team and contributes to whole site literacy improvement. This role includes engagement with the Accelerating achievement in year 3 reading for Aboriginal children project and focuses on improved practices in working with Aboriginal three (and four) year old children and their families for improved reading outcomes. The position is line-managed by the site leader with support provided by the Early Childhood Leader and/or LID Project Officers. At Flinders View PS, the AFLS Teacher works within the preschool setting.
Aboriginal Education Teacher
The role of SA Aboriginal Education Teachers has evolved over time as we learn more about the science of learning and artistry of teaching. It is the work of Aboriginal Education Teachers to help challenge deficit assumptions often held about the ability and capacity of Aboriginal students so they can be successful and achieve excellent results. * A more detailed outline of the role of the AET can be found Here
More Information
| Document Name | Size and Type | Download |
| --- | --- | --- |
| Aboriginal Learner Achievement | 844kb PDF | Icon |
| Aboriginal Education and the Early Years | 166kb PDF | Icon |
| Aboriginal Pedagogies- 8 Ways | 301kb PDF | Icon |
| Aboriginal Perspectives- Links to Australian Curriculum | 245kb PDF | Icon |
| Aboriginal Parent Voice | 164kb PDF | Icon |
| Understanding Cultural Competency | 644kb PDF | Icon |
Aboriginal Edcuation Inititatives